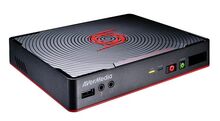 The avermedia game capture HD II Is the current recording device of Tomzgames it uses hdmi and component cables, and has a built in mic/headphone Jack to record commentaries and does not require a PC to record, but does need an external hard drive
Tom got this November 2013 and stopped in 2015 when he got the elgato. But in 2016 has used it again a bit to record ps2/3 and wii soon.
in mid 2017 the setup was changed again and the device is used again
Ad blocker interference detected!
Wikia is a free-to-use site that makes money from advertising. We have a modified experience for viewers using ad blockers

Wikia is not accessible if you've made further modifications. Remove the custom ad blocker rule(s) and the page will load as expected.