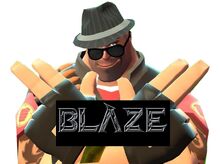 Blaze is a friend Tom talks to on Steam and plays TF2 and Garry's Mod occasionally with him. Mason also talks with him on Steam.
First Appearance on Tomzgames: N/A
Youtube: Blaze Lacroix
XBL: N/A
PSN: N/A
Nintendo ID: Blaze105
Steam: Blaze
Twitter: N/A
Reddit: N/A
Real Name: Blaze Lacroix
Trivia
He plans on buying a new pc to start making videos
He has never been seen or heard before
Ad blocker interference detected!
Wikia is a free-to-use site that makes money from advertising. We have a modified experience for viewers using ad blockers

Wikia is not accessible if you've made further modifications. Remove the custom ad blocker rule(s) and the page will load as expected.