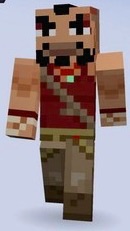 Charles McDeath is an evil villan who appears in The Adventures of Roger and Hank. He appears in Episode 1 in the background and has his first major apearance in Episode 2.
Cause of death: killed by hank with sword
Charles McDeath is played by Nick Crowe
Quotes
LOG LOG LOG
Oh no, I hear a fool comin'.
NONONONONO
Trivia
his voice is based on Arnold schwartzenegger and mr. T
his skin is vaas from far cry 3
Ad blocker interference detected!
Wikia is a free-to-use site that makes money from advertising. We have a modified experience for viewers using ad blockers

Wikia is not accessible if you've made further modifications. Remove the custom ad blocker rule(s) and the page will load as expected.