Scout is a character in the video game TF2. He appears in the Heavy plays episode; Whack the Creeps.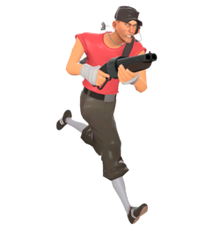 Cause(s) of death
Tazed in neck
head sliced by flying hat
impailed by pool cue
slabbed by darts
crushed by jukebox
stabbed by pen
beaten and drowned in a toilet
Stool banged against head
slapped by purse
shanked by umbrella
pool ball in forehead
stabbed in back of neck by broken wine glass
stabbed in neck by blade at end of shoe
Ad blocker interference detected!
Wikia is a free-to-use site that makes money from advertising. We have a modified experience for viewers using ad blockers

Wikia is not accessible if you've made further modifications. Remove the custom ad blocker rule(s) and the page will load as expected.